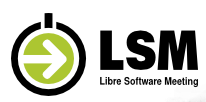 LSM is a non-commercial cycle of conferences, round tables and practical workshops based on Libre Software and its uses. Its aim is to provide a platform for Libre Software users, developers and stakeholders.
We presented a talk called Apache modules for Adaptive Streaming. And a business model? The following is a short synopsis.
We made h264 and smoothstreaming modules for webservers like Apache, Nginx and Lighttpd under an open source license since 2007. For non-commercial use both modules can be used freely – as license we first used GPL and now Creative Commons. For commercial use we provide a commercial license. Our modules have been used by many sites, from small to big to really big. Further development lead us to Unified Streaming (USP): webserver modules again for Apache, Nginx and Lighttpd – but also IIS5/6/7.
USP streams all formats: HLS (Apple), HDS (Adobe), SS (Microsoft) and DASH on many platforms (Linux/Unix, OSX, Windows) and adds many DRM workflows. USP is only available as commercial license and for some platforms only as binary. This we see as a trend: as the capabilities grow, the license closes.
Therefore, next to an insight in streaming technicalities, central to the talk is the question 'which business model works best for highly specialized non commodity technical software?'.
Licenses involved:
Creative Commons

GPL

Commercial